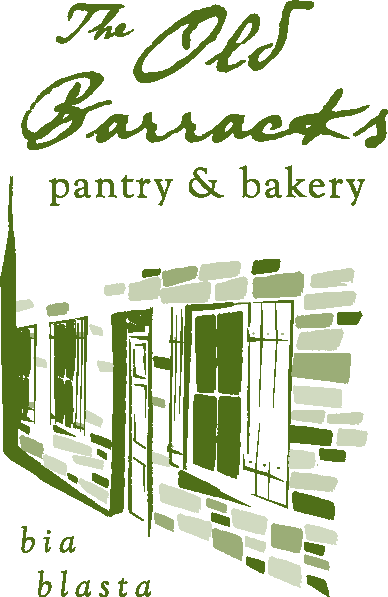 The Old Barracks serve a wide range of food, from tasty breakfast to seasonal Salads, excellent Burgers & scrumptious sandwiches for lunch. The night menu includes Steaks and fabulous seafood.  Our award winning Bakery has a varied array of sweet desserts  which are available all day. Sundays the restaurant opens for a wide selection of  breakfast options & later in the day offer a hearty roast style dinner.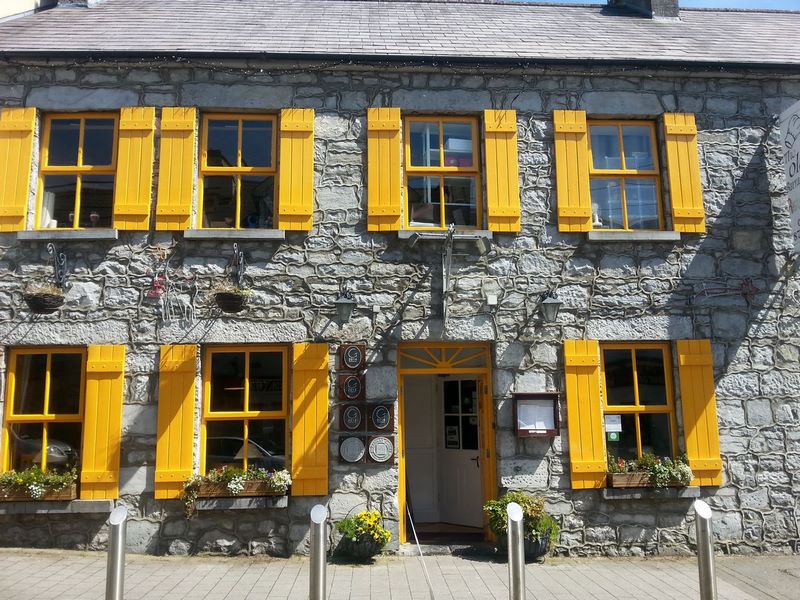 SPECIALS THIS FRIDAY & SATURDAY EVENING...

Tian of Crabmeat with Avocado;

Roast Fillet of Cod on a Warm Chorizo, Baby Potato, Mozzarella, Sun Dried Tomato Salad;

Medallions of Pork on a Bed of Colcannon with Wholegrain Mustard & Jameson Whiskey Cream.

HandMade Desserts, Beer, Wine, Coffees.... ... See MoreSee Less
OPEN LATE TONIGHT....
Sizzling Steaks, Seafood, Salads, Wine, Beer, Desserts
TAKE AWAY OPTION AVAILABLE
Ph 091 877406 or drop in... ... See MoreSee Less
Easter Monday 1916 Celebration Menu 
Breakfast Time
Homemade Scones, Croissants, Pastries & Selection of Muffins ! 
American styled Pancakes with Wild Berry Compote & Natural Yogurt or Crispy Bacon & Golden Syrup.
Homemade Granola 
Scrambled Free Range Eggs, with Crispy Bacon, House Relish & Homemade Brown Bread. 
Old Barracks Full Breakfast, Sausages, Rashers, Free Range Egg, Black & White Pudding, Mushrooms, Tomato, Sauteed Potatoes & Beans, Tea/Coffee & Homemade Brown Bread. 
Lavazza Coffee, Campbells Loose Tealeaves in cute T-Pots ! 
Proclamation Lunch 
Homemade Potato & Leek Soup
Creamy Seafood Chowder
Hazelnut Crusted Goatscheese Salad with Balsamic Dressed Baby Leaf Salad, Roasted Beetroot, Pear & Honey'd Walnuts
Smoked Salmon Salad with Capers, Lemon & Guinness Bread.
Chicken Quesadillas with Spiced Chicken, Cheddar Cheese, peppers & Onions on a Garlic Tortilla with Sour Cream & Salsa
The Liam Mellows ~ Roast of Loin of Bacon & Cabbage with Parsley Sauce &  Creamy Mash Potato.
The Big Fellow ~ Beef Burger with Fries, Coleslaw & Relish.
The James Connolly ~ Hearty Beef in Guinness Stew served with Creamy Mash. 
The Countess Markievicz ~ Golden Fried Chicken Goujons with Salad, Fries, Coleslaw & Relish. 
The Eamonn Ceannt ~ Creamy Cajun Chicken Pasta.
The Padraic Pearse ~ Goastscheese, Red Onion Marmalade Quiche served with Crisp Salad. 
Dessert Treat 
Desserts include Banoffi, Chocolate Fudge Cake, Lemon Tart, Toblerone Cheesecake, Raspberry Roulade, Passion Fruit Mousse, Apple Crumble to name a few.

Wine, Beer Teas & Speciality Coffees. ...Hope you Enjoy 
Vouchers
Vouchers are available for sale for any price required. They are a very popular choice for Birthday gifts !
We can cater for small intimate groups or larger parties. (Please see our Rooms page for more details as we have many different sized rooms to make your day or evening out with us special) 
Just Call today to collect yours.
CATERING
Our Catering Service is a very popular choice for hosting your special event in the comfort of your own home. We are currently taking bookings now for Confirmation & Communion Catering Parties.. Just Phone or call in to book yours ! 
Just Decide on the  date of your event, how many people attending and then choose from our selection of main courses, sandwich platters, finger food, childrens options, and desserts... (See Catering Page for details). Its as simple as that ! Let us take care of the food while you and your guests enjoy the party !