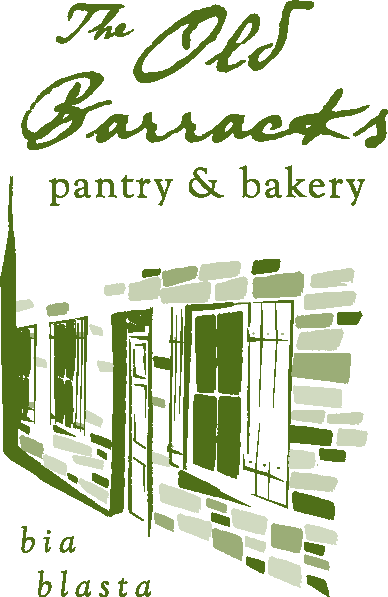 The Old Barracks serve a wide range of food, from tasty breakfast to seasonal Salads, excellent Burgers & scrumptious sandwiches for lunch. The night menu includes Steaks and fabulous seafood.  Our award winning Bakery has a varied array of sweet desserts  which are available all day. Sundays the restaurant opens for a wide selection of  breakfast options & later in the day offer a hearty roast style dinner.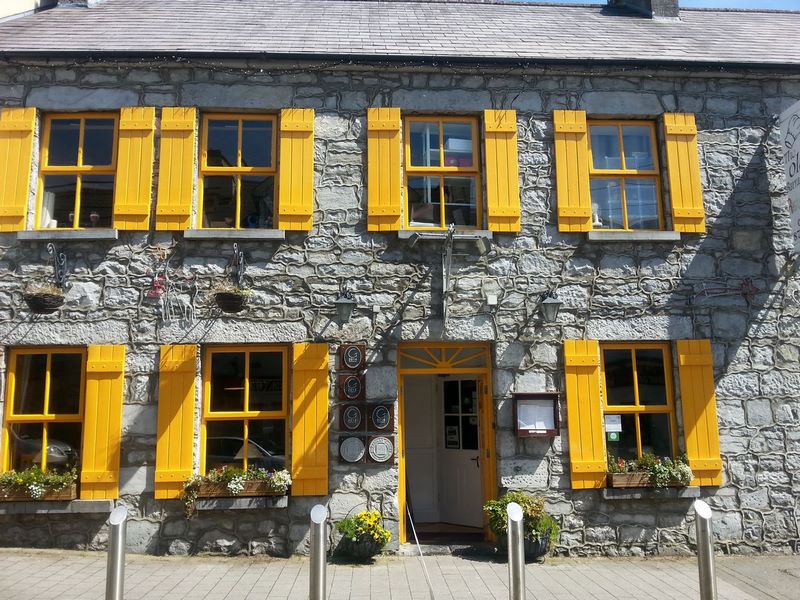 PANCAKE TUESDAY SPECIALS.....
Delicious Pancakes with Lemon Curd Cream & Blueberries;
Pancakes drizzled with Chocolate Sauce & Bananas;
Savory Crepe filled with Feta, Olives, Spinach & Sun Dried Tomatoes !! ... See MoreSee Less
SUNDAY LUNCH MENU...
Roast Leg of Lamb, with Mint Sauce;
Roast Stuffed Loin of Pork with Apple Sauce;
Roast Supreme of Chicken with Pepper Sauce;
Angus Beef Burger in a Floury Bap with Cheddar Cheese served with Skinny Fries & Salad;
Oven Baked Salmon;
Roast Veg & Chickpea Curry with Coconut & Almonds served with Steamed Basmati Rice.
All Roast main courses come with Seasonal Veg & Creamy Mash Potato.
DESSERTS
Chocolate Fudge Cake
Strawberry & Rhubarb Cheesecake (Gluten Free)
Tiramisu Coffee Gateau
Raspberry & Almonds Tart ... See MoreSee Less
♥ St Valentines Weekend
♥
This Valentines Weekend we have a Special 5 course menu on. €30 (Not tied to 5 course, also  priced individually)
Prosecco & Canapes on Arrival
Starters
Seasonal Soup of The Evening;
Old Barracks Creamy Seafood Chowder;
Tempura of Tiger Prawns served with Crisp Salad & SweetChilli Sauce;
Baked Confit of Duck Spring Roll With Hoi Sin & CrunchyPeanut Dip;
Duo of Goatscheese Hazelnut Crusted Goatscheese Croqute& Whipped Goatscheese On a Carpaccio of Beetroot with
Homemade Red Onion Jam.
Sorbet of The Evening
Mains
Steak of the Evening Cooked to your liking Served with Chunky Fries, Crisp Battered Onion Rings & A Choice of Sauces Creamy Pepper/Garlic Butter or Red Wine Jus(€5 Suppl);
Slow Braised Lamb Shank on a Spring Onion Champ with Rich Red Wine & Rosemary Jus;
The Three Little Pigs Slow Roasted Pork Belly with Grilled Tournafulla Black Pudding on a Smokey Bacon, Kale &Chive Champ with a Rich Cider Gravy;
Oven Roasted Supreme of Chicken, Stuffed with Knockamore Garlic & Chive Cheese On a Smokey Bacon & Sundried Tomato Champ Served with a Red Wine Jus
Grilled Fillet of Seabass on a Warm Baby Potato, Chorizo & Rocket Salad With Red & Green Pestos & CrispyLeeks
Balsamic Roasted Red Onion, Beetroot & Goatscheese Tarte Tatin Served on a Bed of Fresh Tossed Salad with Homemade Pesto
Dessert
Assortment of Desserts from our Bakery

Tea/Coffee
Vouchers
Vouchers are available for sale for any price required. They are a very popular choice for Birthday gifts !
We can cater for small intimate groups or larger parties. (Please see our Rooms page for more details as we have many different sized rooms to make your day or evening out with us special) 
Just Call today to collect yours.
CATERING
Our Catering Service is a very popular choice for hosting your special event in the comfort of your own home. We are currently taking bookings now for Confirmation & Communion Catering Parties.. Just Phone or call in to book yours ! 
Just Decide on the  date of your event, how many people attending and then choose from our selection of main courses, sandwich platters, finger food, childrens options, and desserts... (See Catering Page for details). Its as simple as that ! Let us take care of the food while you and your guests enjoy the party !