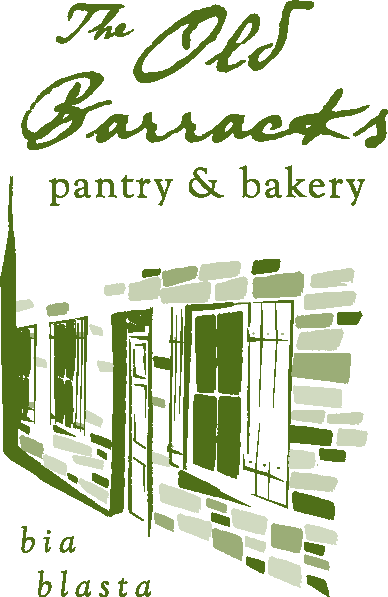 The Old Barracks serve a wide range of food, from tasty breakfast to seasonal Salads, excellent Burgers & scrumptious sandwiches for lunch. The night menu includes Steaks and fabulous seafood.  Our award winning Bakery has a varied array of sweet desserts  which are available all day. Sundays the restaurant opens for a wide selection of  breakfast options & later in the day offer a hearty roast style dinner.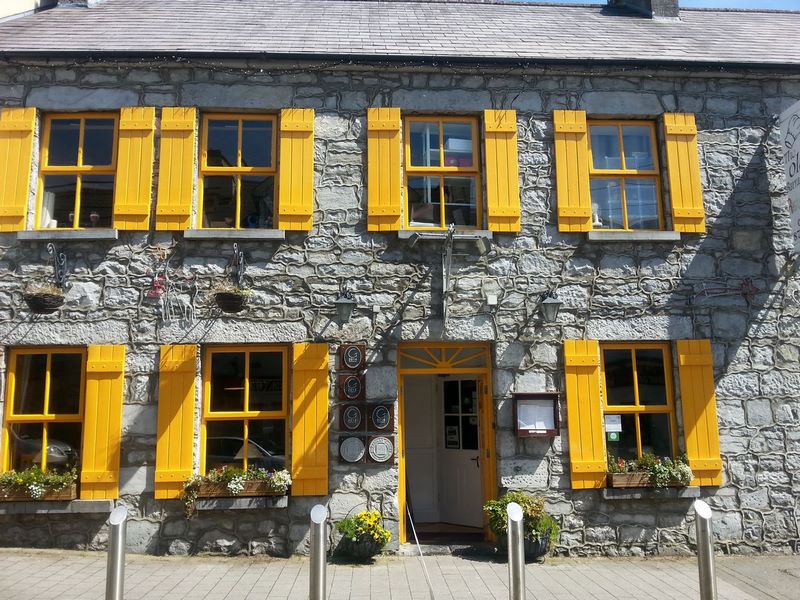 Galway Race Festival Menu
WE ARE JUST 12 MINS ON THE MOTORWAY FROM BALLYBRIT RACE TRACK, SO LET US TAKE CARE OF ALL YOUR BREAKFAST, LUNCH OR DINNER NEEDS BEFORE YOU HIT THE TRACK.
Thai Style Fish Cakes
Served with a Sweet Pickled Cucumber Salad & Sweet Chilli Sauce € 8.50
Duo of Creamy Goats Cheese
Hazelnut Crusted Goats cheese Croquette & Whipped Goats cheese Mousse on a Carpaccio of Beetroot with Home Made Red Onion Jam € 8.50
Cider Braised Ham Hock Terrine
With Grilled Home Made Onion Bread with a Sweet Fig & Apple Chutney € 8.50
Sharing Platter
Satay Chicken Skewers, Thai Style Fish Cakes & Hazelnut Crusted Goats Cheese Croquettes Served with Crisp salad & Dips € 15.95
8oz Irish Striploin Steak Cooked to your liking
Served with Chunky Fries, Crisp Battered Onion Rings & a Choice of Sauces
(Creamy Pepper, Garlic Butter or Red Wine Jus) € 24.95
 Old Barracks Famous Angus Beef Burger
In a Brioche Style Bun, Bacon & Cheddar with a Battered Onion Ring & Served with Coleslaw, Relish & Fries € 15.50
Chicken Fajitas
Mexican Chicken & Vegetable Fajitas with Tortillas & Selection of Dips € 14.50
Oven Baked Teriyaki Salmon Fillet
On a Stirfry of Egg Noodles, with Crisp Broccoli, Carrot & Spring Onion, Soy, Ginger, Coriander & Lime €15.50
Tart-Tatin
Balsamic Roasted Red Onion, Beetroot & Goatscheese Tarte Tatin
Served on a Bed of Fresh Tossed Salad with Homemade Pesto € 13.50
Desserts
Raspberry or Salted Caramel Roulade
Lemon Tart with Fresh Cream
Summer Berry Pavlova with Raspberry Coulis
Triple Chocolate Fudge Cake.
WE HAVE A FULL WINE & BOTTLED BEER LICENCE. OPEN LATE WEDNESDAY TO SATURDAY NIGHT
BOOKING ADVISABLE PH 091 877406
(OPENING HOURS RACE WEEK)
MONDAY            8.30am - 7pm                     FRIDAY                                  8.30am – 9pm
TUESDAY           8.30am - 7pm                     SATURDAY                            8.30am – 9pm
WEDNESDAY     8.30am - 9pm                     SUNDAY                               10am – 7pm
THURSDAY         8.30am - 9pm                     BANK HOL MON                   10am – 7pm
 for more information on festival visit http://www.galwayraces.com
Vouchers
Vouchers are available for sale for any price required. They are a very popular choice for Birthday gifts !
We can cater for small intimate groups or larger parties. (Please see our Rooms page for more details as we have many different sized rooms to make your day or evening out with us special) 
Just Call today to collect yours.
CATERING
Our Catering Service is a very popular choice for hosting your special event in the comfort of your own home. We are currently taking bookings now for Confirmation & Communion Catering Parties.. Just Phone or call in to book yours ! 
Just Decide on the  date of your event, how many people attending and then choose from our selection of main courses, sandwich platters, finger food, childrens options, and desserts... (See Catering Page for details). Its as simple as that ! Let us take care of the food while you and your guests enjoy the party !